This interview is part of our Road to the IGF series. The IGF (Independent Games Festival) aims to encourage innovation in game development and to recognize independent game developers advancing the medium. Every year, Game Developer sits down with the finalists for the IGF ahead of GDC to explore the themes, design decisions, and tools behind each entry.
Nominated for Excellence in Audio, We Are OFK is an interactive E.P. that explores a musician's journey to break into the LA music scene (and the many texts and social media posts leading up to that).
Game Developer caught up with Teddy Dief, co-writer and lead singer on the project, to talk about how it naturally grew out of a desire to explore the difficulties of creating something personal and sharing it with the world, the importance of "mouth feel" when making a catchy pop song, and how they drew from that imagery that comes from listening to music in bed to create the interactive music videos.
Who are you, and what was your role in developing We Are OFK?
I'm Teddy Dief, creative director, co-writer, and lead singer of the OFK project!
What's your background in making games?
I co-designed former IGF winner Hyper Light Drifter and have been making games for *mumble* years! I've been Creative Director at Square Enix Montréal, game designer at Disney Interactive, and a game narrative researcher at the USC School of Cinematic Arts. I also cofounded the LA indie games collective Glitch City.
How did you come up with the concept for We Are OFK?
Years and years ago I went to a Hatsune Miku show in LA, and I was floored by how everyone in the audience was so invested in this character who had been dreamed up by a bunch of creative people. I wondered what it would be like to make an indie virtual musician—someone who is making music in their bedroom and is a fan of Hatsune Miku themselves! Someone who isn't already a bigger-than-life popstar. A virtual band smaller than K/DA or Gorillaz. Something more personal. That's where the spark for OFK started.
What development tools were used to build your game?
We used Unity for the game with a ton of custom tools built into Unity's Timeline system! Most music production was done in Ableton, with vocal tracking done in Pro Tools.
What appealed to you about making an interactive EP? About really digging deep into the connection between games and music?
I have a background in music, as do a lot of members of our creative team like producer Mikayla Foote and Jarryd Huntley, our lead programmer! I think a lot of people are making exciting work, trying to connect game mechanics to the mechanics of music, and we do a little bit of that in our music videos. But I think the main goal for us was to explore the connection between how it feels to make games and how it feels to make music. I know so many different types of artists, musicians, and game developers in Los Angeles, and we all go through the same shit just to release our work and try to get by.
How did the pop musicians who worked on We Are OFK come together for this project? What work went into assembling the band for this game?
The songs were written & produced by LA indie musicians Luna Shadows and Thomas Powers of The Naked And Famous, and sung by me, with incredible advisement from our band manager / producer Mikayla Foote! Mikayla had previously managed Luna and introduced me to her and her writing partner, Thom! We hit it off pretty quickly; I shared early story outlines with them, and they were super excited at the idea of writing for a virtual band! Later on, I met our now live show music director Dajaun Martineau literally through an Instagram mutual. We went to an outdoor screening of ALIEN, got to talking about music, and I guess that was it!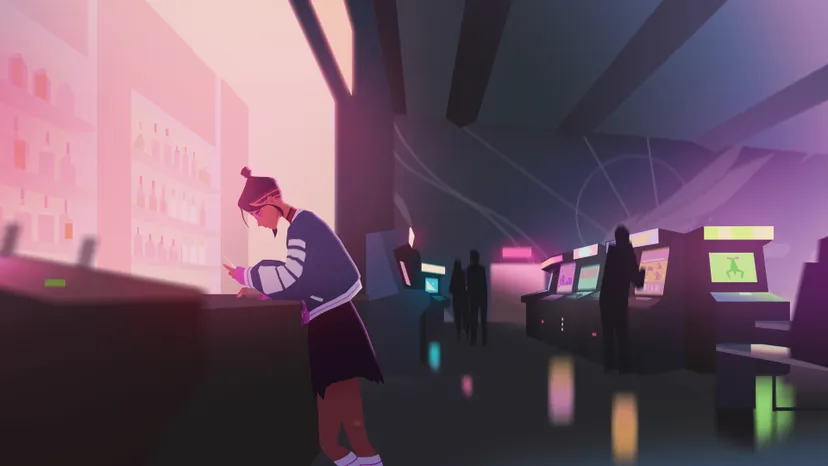 How did the music inform the game and world you wanted to create? How did the game and world also inform the music?
The game and music informed each other back-and-forth! Luna and Thom started writing and I sent them my story outlines and early drafts which I had been writing with co-writer Claire Jia. They wrote early demos and lyrics based on the emotional arc of the series, since I had given them the approximate location that each song would be featured in the story. Once we knew the general sound of the songs, that helped inform the scenes surrounding them—how much drama we needed to create to lead into each music video, and of course, the music informed the music videos themselves and how the art team wanted to represent the emotion of the sound they were hearing!
How did the story of a debut band come about? What drew you to explore the start of a musical journey alongside this first EP?
Honestly, when I first started developing the characters, I didn't know they were going to be a band! That idea didn't dovetail with my Hatsune Miku inspiration for a few months. At first, I just wanted to write a story about how hard it is to make something personal and share it with the world, and after a while, I realized that the characters would need a shared creative project to bring them together and challenge them.
We absolutely did not want to tell a story about game development, because I think people have tried to tread that path and it just didn't feel exciting or novel to me. The most personally exciting and honest route ended up being music, because of my background as a singer and producer Mikayla Foote's background as a musician and manager. We felt confident that we could bring together a team that would be able to create pop music at a professional, industry-standard level, and built a story around that.
Texting and social media are important elements of the game. How did you work to bring those into the game and story?
I think we would've had to work harder to NOT bring social media and texting into the story. The way that a lot of our team communicates, and especially the way that Claire Jia and I communicate, is so heavily a mixture of IRL conversation and keeping up over text. We don't just use texting as some sort of modern lore bible or bestiary. Actual plot development happens in text too because some of our most real and painful moments have happened over text messaging. It just is how we communicate and how we live, for better or worse.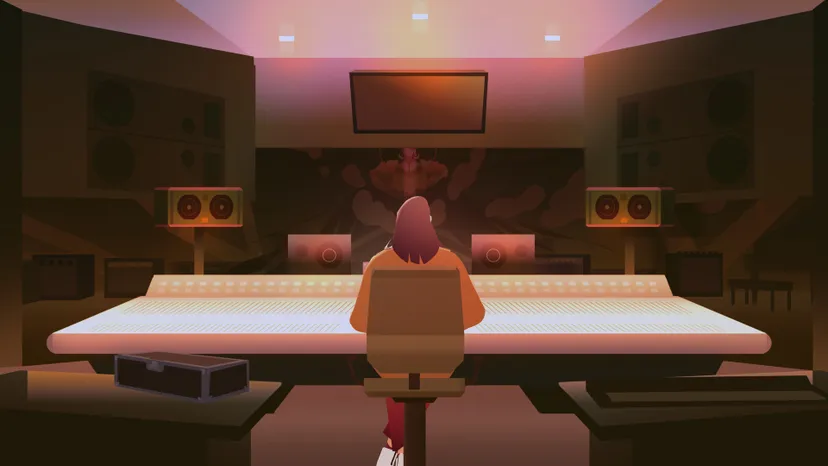 What thoughts went into the interactive music videos? How did you create playable moments for the songs of the EP?
This process is really hard to describe, because I think it's the most purely imaginative. We did get the whole team together in-person (one of the few times we got to do that!) and played the songs for everyone. That kicked off a series of brainstorms. But I think the easiest way to describe the process is that it's just like when you're laying in your bed listening to music with your eyes closed. What do you picture? We combined our own reactions to the music with what we knew the characters would be going through when their featured song debuted. Most of the creation of the characters and their journey is a combination of our own reactions, emotionally, and what the characters would do.
What do you feel is important for a good pop song? What makes it catchy and connects it with the audience, and how did you work that into We Are OFK?
OFK is such an intimate and personal story, and I think a good pop song has to feel intimate to the listener. Technically, you want a hook that is memorable and ideally hummable, and lyrics that feel good on your tongue. Good "mouth feel," lol. You want people in the audience or people at home to be mouthing along…or shouting if they're in their car! And of course, you want to come from a place of honesty. Frankly I'm not that good of an actor, so I need to be able to connect with the lyrics and the story they tell.
The band comes from a variety of backgrounds. How did those all help shape We Are OFK? The music and the game world?
Once during production, I got a DM from one of our artists who asked me "Hey, what's a mech? The script mentions it and I don't understand." That was like the coolest thing that's happened to me in terms of trying to grow a versatile diverse team, because I feel like so many people in gamedev circles know what mechs are, from nerdy shit like Gundam or Evangelion. But beyond differences in our interests and industries, it's always been crucial to us that if we're going to have a diverse set of characters, we need team members who can resonate with different aspects of their unique experiences. There's no one-to-one match between any character in the game and any team member, but it all needs to be informed from a place of realness and honesty.
Ultimately, it was Claire Jia and me writing the words, but so many team members read the scripts for us, and I had so many phone calls with other friends, and friends of friends, and cultural consultants, to get further and further out of our bubbles. Ultimately, I hope that it ended up creating a version of modern Los Angeles that feels kind of aspirational. It still suffers from capitalism and anxiety and dishonesty, but for example, all the queerness in the game doesn't need to be challenged. We wanted the characters to be able to be queer and not have it be the point of the story. They are allowed to be people and have dreams and problems beyond their sexual and gender identities.
cod mobile season 1 take part in hidden rabbit social scavenger
cod mobile season 1 take part in hidden rabbit social scavenger
cod mobile season 1 take part in hidden rabbit social scavenger
Coin Master Free Spins 2023 How To Get Free Spins Coin Master Tutorial
Coin Master Free Spins 2023 How To Get Free Spins Coin Master Tutorial
Coin Master Free Spins 2023 How To Get Free Spins Coin Master Tutorial
How to get unlimited rolls on Dice dream
How to get unlimited rolls on Dice dream
How to get unlimited rolls on Dice dream
Dream League Soccer 2023 MOD APK v10060
Dream League Soccer 2023 MOD APK v10060
Dream League Soccer 2023 MOD APK v10060
Episode Hack Unlimited Passes Gems
Episode Hack Unlimited Passes Gems
Episode Hack Unlimited Passes Gems
How To Make Millions Of Coins Fifa Mobile 22
How To Make Millions Of Coins Fifa Mobile 22
How To Make Millions Of Coins Fifa Mobile 22
The Secret to FREE Coins in FIFA 23
The Secret to FREE Coins in FIFA 23
The Secret to FREE Coins in FIFA 23
GRATIS DIAMOND CARA MENDAPATKAN DIAMOND
GRATIS DIAMOND CARA MENDAPATKAN DIAMOND
GRATIS DIAMOND CARA MENDAPATKAN DIAMOND
gta online gives players free and easy money in lunar new year
gta online gives players free and easy money in lunar new year
gta online gives players free and easy money in lunar new year
Get Free IMVU Credits! (New Trick)
Get Free IMVU Credits! (New Trick)
Get Free IMVU Credits! (New Trick)
LivU Live Video Chat App Live Proof Real And Fake
LivU Live Video Chat App Live Proof Real And Fake
LivU Live Video Chat App Live Proof Real And Fake
mafia city hack unlimited free gold 2023
mafia city hack unlimited free gold 2023
mafia city hack unlimited free gold 2023
30 free paysafecard codes list ideas
30 free paysafecard codes list ideas
30 free paysafecard codes list ideas
Unlimited Netflix Premium Accounts Generator
Unlimited Netflix Premium Accounts Generator
Unlimited Netflix Premium Accounts Generator
star stable codes official starstable codes instagram
star stable codes official starstable codes instagram
star stable codes official starstable codes instagram